introduction
During my time at BGSU in the MCT program I have been able to hone my technology skills for use in education. There are several areas that I feel I have improved upon greatly: iBooks creation, Video Editing, and Audio Editing.
iBooks Creation:
For my final project I created an iBook for use in education. While creating this iBook I learned about the vast amount of features iBooks has and I was able to utilize them effectively for education:
Distribution
Note taking
Dictionary use
Flashcard Development
Internal Quiz Creation
Picture Slideshows
External Links
Integration of Classroom Materials
The following is a link to a video I created about many of the features iBooks has to offer.
Video Editing:
I have made many videos over the year but through this course I was able to push my abilities forward when it comes to special effects and other video tool use. The following are some of the areas that I worked on developing throughout my time at BGSU:
Green Screen
Audio Editing
Video Editing
Transition
Visual Effects
Inter-splicing Various Audio and Video files
Transcoding
Screen Casting
The following is an example of one of the videos I created for my course work at BGSU:
audio Editing:
Over the years I have been recording audio and doing my best to distribute it to my students. Recently I have purchased a new higher quality microphone and have seen my recordings improve vastly. Also I have learned how to not only create an audio podcast for distribution through iTunes but also I have learned how to apply the same technology for video podcasting. The following link is a link is a portal to my iTunes Podcast:
Mr. McEwen's History Class Podcast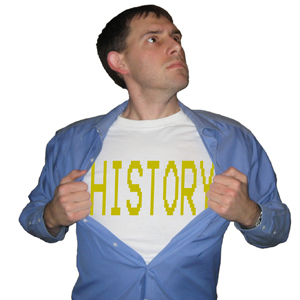 other examples of 21st century technolgoy::
Personal Webpage: www.mrmcewen.com
Twitter account: @Mr_McEwen_Class